Pressure Cleaning Carindale
Carindale is situated about 10km east of Brisbane City. It's mostly a residential area, but it's proximity to the motorway and in the flight path of the airport can see a lot of debris falling on homes from pollution and toxic rains.
Homes can easily be damaged by pollution, as it adds a layer of dirt to your roof, and other outside areas. Regular cleaning of your home can aid in reducing damage caused by dirt and moisture. Driveways can easily become discoloured and affect the appearance of your home.
Having your property cleaned will increase the curb appeal and value of your property. If you are considering selling your home, having it cleaned can attract buyers as it is clear you have been performing regular maintenance.
Outdoor areas, such as, patios, decking and pathways, are easily made slippery and unpleasant in the wet season. With a build up of dirt and moisture these can become unusable and no one wants to use them. Only regular cleaning can keep them in pristine condition.
For most homes in the area we recommend a full outside home clean every twelve months. We'll inspect your home and focus on any trouble spots, like oil spotted driveways.
Home Maintenance Details
After booking in a scheduled clean and before we arrive it is best to pack away any outdoor furniture and close all of your windows. Please secure any pets, this is for their safety and ours, nobody likes to trip over the family pet!
While we pay attention to what we are cleaning, if you think there is something that needs special attention, please let us know before we start. Then we can be sure to get to it and give it the treatment it requires.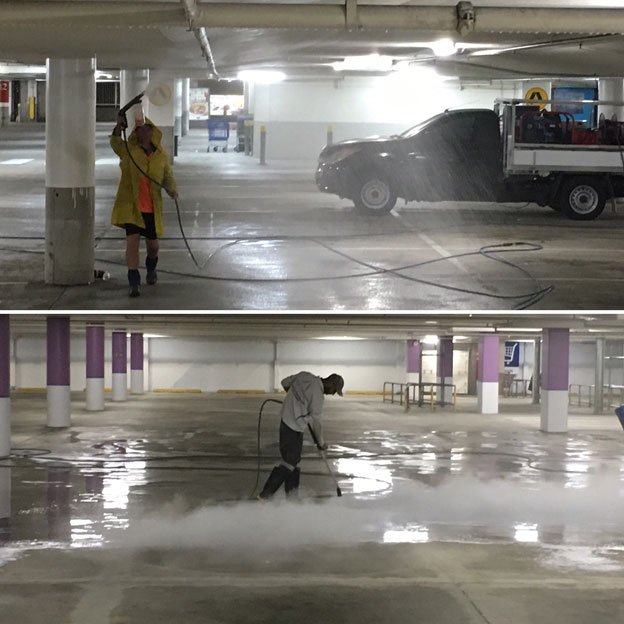 ---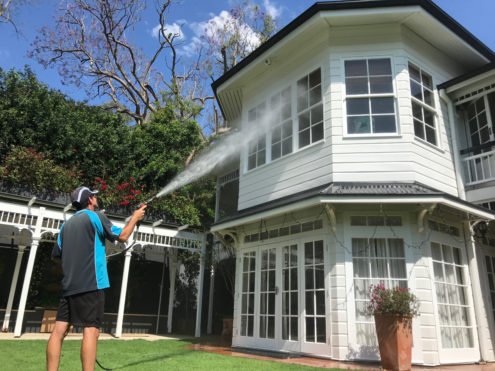 Your house is most likely the largest financial investment that you will make. Looking after it should be a priority as it needs to last a lifetime. Scheduling regular cleaning can help the home keep its value, as cleaning will remove any dirt and debris build up.
Unfortunately most people lack the equipment and skills to clean the outside of a home properly. At MKL we use the latest in high pressure cleaners to get rid of any surface dirt. For concentrated built up debris, we use our specially formulated chemicals to breakdown the stubborn problem areas and then clean it off with the high pressure washer. 
Our machines are capable of cleaning hard materials and softer painted surfaces. For brickwork we use heated water and high pressure to clean out the dirt that clings to the tiny cracks found in clay bricks. With most treated, or painted wood we choose a lower pressure and usually cold water, as this helps protect the material while it's cleaned.
It's usually best practise that someone be present during a clean to make sure there are no windows that leak, this is usually caused by a faulty seal, or clogged drainage holes.
The roof is a massive part of your home and it needs special attention as it is the largest part that is exposed to the elements. Unfortunately your roof can attract many unwanted visitors, such as algae, plants spores, fungi, and other nasties. This can have an affect on any water that you collect.
With regular cleaning, you can be drinking good clean water again! We use a softwash system and we'll detach any collection system before starting the cleaning cycle.
We can even give your solar panels a good clean and boost their collection abilities!
---
Patios, Decks & Courtyards
These areas can be difficult to clean without the right equipment, as there are many angles and spots where drainage is an issue. Most are constructed of wood and brickwork, you need to be careful when moving between these two opposing materials.
Outdoor recreational areas can quickly become dirty when unused for long periods of time. They can turn from a place of relaxation to a place of work, and an unpleasant place to be. Having them cleaned regularly can turn this around.
If you have a BBQ, the bricks can become very slippery with oil and grease and create a substantial hazard. With our cleaning process we can take care of these for you and bring it back to its original condition.
---
Driveways & Paths
Driveways and paths come with their own challenges when cleaning. They can be made of a variety of different materials and each needs to be treated slightly differently.
Most are constructed of concrete or brick pavers, but others include: stencilled, exposed aggregate, painted (surface or mixed) and epoxy sealed. Our equipment is suitable for use on all driveway surfaces.
A driveway is the entrance to your home, and it should reflect how you want to be seen. This is especially important if you're having guests over, or are selling the property.
---
1We're eco friendly

Looking after our planet is very important to us, that is why we are certified as an eco-friendly business.

2Attention to Detail

All of our operators are specially trained to excel in their job and look at the smallest details. That's why we're the best!

3Guaranteed Results

With over 12 years of experience, getting results for our client is on the top of our list. We'd love to work with you.
Specialised Concrete Cleaning Services in Carindale
MKL Pressure Cleaning has been concrete Cleaning in Carindale for private and business owners for many years, successfully cleaning both big and small concrete items including driveways, car parks, fences, walls, sporting courts and many other surfaces. Our concrete cleaning specialists in Carindale can fully remove dirt, dust and carbon build-up from your concrete surfaces delivering top results at amazing, discounted rates.
About MKL Pressure Cleaning Carindale
We're a family owned business and have been hard at work in the greater Brisbane area for over twelve years. We have a solid understanding of the varied needs for most areas, and we are sure to find a solution that fits your unique needs.

We have found that there are three main key points of difference that sets us apart from our competition and these are:

Attention to Details

– We have become accustomed to seeking out the areas that need special treatment, we're experienced and this shows in our abilities.

Eco-Friendly

– Any chemicals that we use have been certified as environmentally friendly, perfect for homes with lots of wildlife and plants.

Guaranteed Results

– We do what we say we will and we back this up with a guarantee of workmanship.

Contact us now for pressure cleaning in Carindale or request your free quote on Pressure Cleaning Carindale. 

Our commitment to you

Our concrete cleaning specialist will have the knowledge and experience to clean all types of concrete surfaces
We use eco-friendly cleaning products, protecting both your health and the environment
We're available 7 days a week and in the evenings for minimal disruption to businesses
We can fully remove carbon deposits, dirt and graffiti from a variety of surfaces
Our concrete cleaners will come fully equipped, fully insured and prepared to clean any concrete surface.
All safety procedures followed as per swms and all msds supplied for all chemicals used.
---
The Best Carpark Cleaning Specialists in Carindale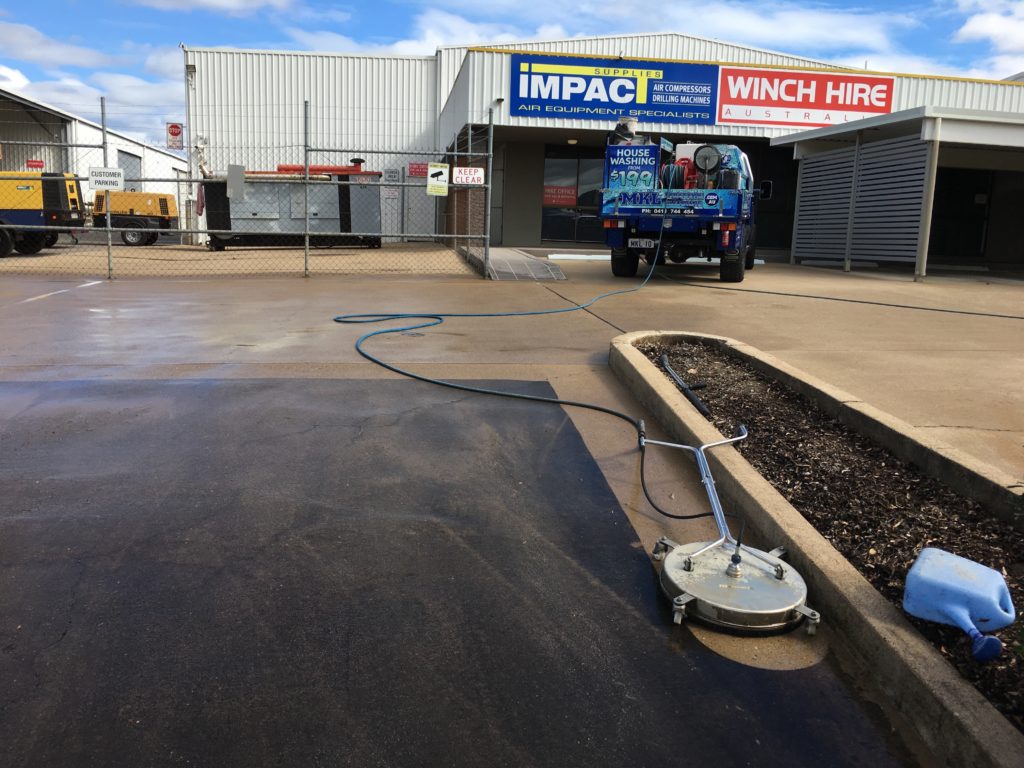 We service all areas of Carindale with our car park cleaning services, you can rest assured your apartment, commercial and industrial carpark will be left spotless and presentable. Take a look at our testimonials page to see the standard of service, and the stunning level of cleanliness you can expect to receive from us.
Car park Cleaning process
We use a range of different cleaning products, methods and equipment, depending on the type of dirt, stains and flooring. We use pressure cleaning equipment to remove chewing gum and oil stains, whilst our team carry a range of environmentally-friendly cleaning products to remove a wide range of stains and to restore the cleanliness and colour of the car park's flooring and walls.
A high density of vehicles can make car park cleaning difficult, therefore we offer a selection of appointments during non-business hours, including evenings and weekends, to enable us to access the car park whilst it is either empty or less busy. This allows us to clean the carpark without worrying about causing damage to people's vehicles and means that the end results will be more thorough.
Why Use us for Car Park Cleaning in Carindale?
The skills of our staff guarantee we will have your carpark looking their best in the most efficient time possible. We will use powerful water efficient pressure cleaner to remove stubborn stains, dirt and dust. Keeping your carpark clean will stop people bringing in dirt and grease into the premises and keep it safe from people slipping on oil, grease and dirt.

Our car park cleaning service will save you time and money. No matter how big or small the area that needs cleaning is, we have the right skills and tools to get the job done right. Our professional pressure cleaners will use a highly effective jet-washing method to fully remove chewing gum, stains and dirt. And, to fit us into your busy schedule, we make sure you will be able to choose from a range of booking hours including weekdays, weekend and in the evenings, for the same price.

You needn't worry about your own or your customers health, as we use eco-friendly cleaning products, as part of our ongoing policy to deliver environmentally safe services. And, when booking more than one service with our car park cleaning specialists, we will offer you lower prices. For example, combine driveway cleaning, wall and stair cleaning you'll receive a great discount!

We hot water pressure clean car parks for shopping centres, unit complexes, commercial premises, schools, hotel and motels.

Our carpark cleaning specialist will have the knowledge and experience to clean all types of carparks
We use eco-friendly cleaning products, protecting both your health and the environment
We're available 7 days a week and in the evenings for minimal disruption to businesses
We can fully remove carbon deposits, dirt and graffiti from a variety of surfaces
Our carpark cleaners will come fully equipped with hot water pressure cleaners, fully insured with 20 mil liability and prepared to clean any concrete surface.
A family owned and operated business with 10 years experience At MKL Pressure Cleaning we have provide expertise for all aspects of external cleaning in Carindale, Brisbane. With a real understanding that different markets have different requirements. We believe that understanding your specific needs is of the utmost importance when delivering quality service. We have a vast range of knowledge and experience in all types of residential and commercial industry high pressure cleaning services. We know how vital the maintenance of your professional image is to both you and your company. Our services give you everything you need to keep costs to a minimum whilst increasing your business' productivity and profitability. Attention to detail and reliability is what guarantees our customers call upon our high pressure cleaning services time and time again. We strive to always offer you a straight forward service whilst providing you an integrated cleaning solution for all your exterior surfaces.