Pressure Cleaning Brookfield
Brookfield is a large suburb of Brisbane and mainly consists of acreage residential properties. While it's a beautiful place to live, it does have its own set of problems when trying to keep your property clean. 
If your property has a long bitumen or cement driveway, keeping it clean can be an intensive process, especially if you do not have the correct equipment available. Performing regular maintenance can lengthen the life of your driveway, and increase the value of your home.
Often outlying buildings, sheds and garages, are easily overlooked and they can quickly fall into disrepair from lack of maintenance.  These areas are easily overlooked as they may not be inspected as often as your main building. Scheduled regular cleaning can keep your maintenance plans on track.
Keeping your home looking as new as possible is one of the best, and cheapest, ways to boost your kerb appeal and increase its value. It's often said that the first bite is with the eye, if you are selling your home or just into keeping it looking fresh and perfect, then you want that first bite to stay with your visitors.
The properties in Brookfield need different cleaning services depending on their exact location and what is happening in their direct location. For example if your neighbours are cutting grass often, your cleaning may need to happen more frequently, please get in touch with our team for a discussion about your particular needs.
Home Maintenance Details
On the day of your booking, it is important to secure any pets and put away any furniture. This aids us in providing a suitable working environment for our operators, and protects your pets from harm.
Before starting we will assess your home, and decide which areas need more attention than others. For most applications, we'll use hot water and high pressure for cleaning, with heavily soiled areas needing an additional application of chemicals.
You're welcome to let us know of any areas that may require special attention. We're always happy to talk to you about your specific needs.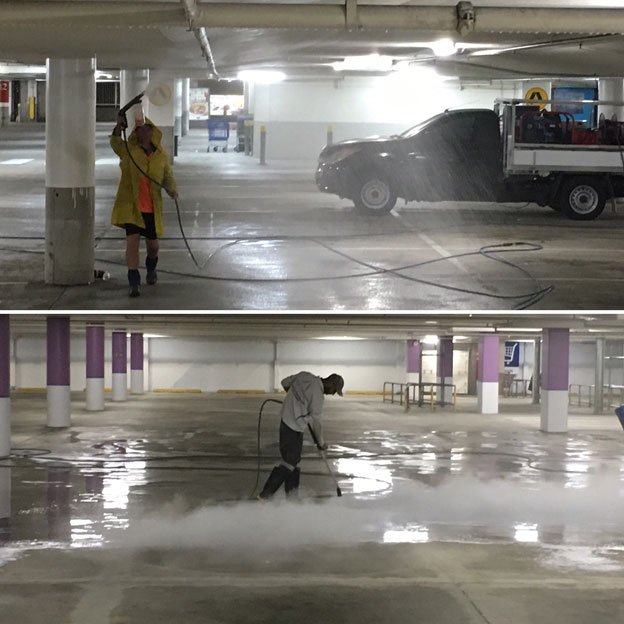 ---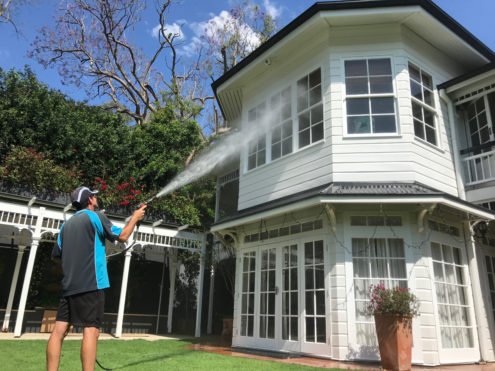 Looking after the asset that is your home, can be a daunting task. What needs to be cleaned and how often?
When you contact MKL, we will examine your property and offer you a recommendation for a cleaning schedule. There are many factors that decide how often you need to clean the outside of your property, these include: proximity to heavy use roads, localized pollution levels, types of trees in the area and what the home is made from.
The materials used in the construction of your home will largely determine how often and what type of cleaning is used. For most brick work, we'll use a high pressure method, and it may or may not need a chemical spray – this is dependent on the levels of dirt and debris on the bricks. For painted wood surfaces, we'll use cold water and a low water pressure – this is to make sure that the paint does not get removed in the cleaning process.
---
Protecting your roof from damage caused by airborne particles is easy with cleaning from MKL. We use a softwash system, and it's perfect for clearing out any deposits of algae, fungi, and other roof dwelling nasties.
If you're collecting rainwater you want the cleanest water running off your roof, the best way to achieve this is with regular cleanings. The same can be said for solar panels, except in this case you're collecting free electricity.
Patio, Decks & Courtyards
For most outdoor areas they'll need to be looked after separately from your home. However, if you require them cleaned at the same time as your home, please let us know as we are often available to complete both in the same visit.
Outdoor areas are easily overlooked when it comes to maintenance, as they may not be getting used all year round. But, they are just as important to the home as a whole.
Paths and other brickwork can become slippery and collect dust and debris (such as leaves and ash), and cleaning them out can be difficult, especially if the ground is oily from a BBQ!
Driveways & Paths Pressure Cleaning Brookfield
Your driveway is the entrance to your home, it's often the first thing that people see, and therefore the first impression! Having a neat and clean driveway can set up a home and present it in the best light.
When you get your driveway (and paths) cleaned we recommend getting it sealed, as this helps keep the dirt away for longer. This is especially good if you driveway is near level and dirt tends to collect as the water does not drain away fast enough.
---
1We're eco friendly

Looking after our planet is very important to us, that is why we are certified as an eco-friendly business.

2Attention to Detail

All of our operators are specially trained to excel in their job and look at the smallest details. That's why we're the best!

3Guaranteed Results

With over 12 years of experience, getting results for our client is on the top of our list. We'd love to work with you.
Specialised Concrete Cleaning Services in Brookfield
MKL Pressure Cleaning has been concrete Cleaning in Brookfield for private and business owners for many years, successfully cleaning both big and small concrete items including driveways, car parks, fences, walls, sporting courts and many other surfaces. Our concrete cleaning specialists in Brookfield can fully remove dirt, dust and carbon build-up from your concrete surfaces delivering top results at amazing, discounted rates.
About MKL Pressure Cleaning Brookfield 

MKL is a family owned business of over 12 years! We have been cleaning the suburbs of Brisbane, and the surrounding cities, for a long time and we know how to handle the many issues we find.

In general there are three key points of difference that makes us stand out from the competition:

Environmentally Friendly

– All of our cleaning products have been certified as being eco-friendly

Attention to Details

– We've been in business for a long time and we know what constitutes a job well done, we're sure you'll be pleased with the results!

Guaranteed Results

– We're only finished when you say we are, our aim is to please our clients and provide a great experience.

Contact us

now for pressure cleaning in Brookfield or request your

free quote

on Pressure Cleaning Brookfield.

Our commitment to you

Our concrete cleaning specialist will have the knowledge and experience to clean all types of concrete surfaces
We use eco-friendly cleaning products, protecting both your health and the environment
We're available 7 days a week and in the evenings for minimal disruption to businesses
We can fully remove carbon deposits, dirt and graffiti from a variety of surfaces
Our concrete cleaners will come fully equipped, fully insured and prepared to clean any concrete surface.
All safety procedures followed as per swms and all msds supplied for all chemicals used.
---
The Best Carpark Cleaning Specialists in Brookfield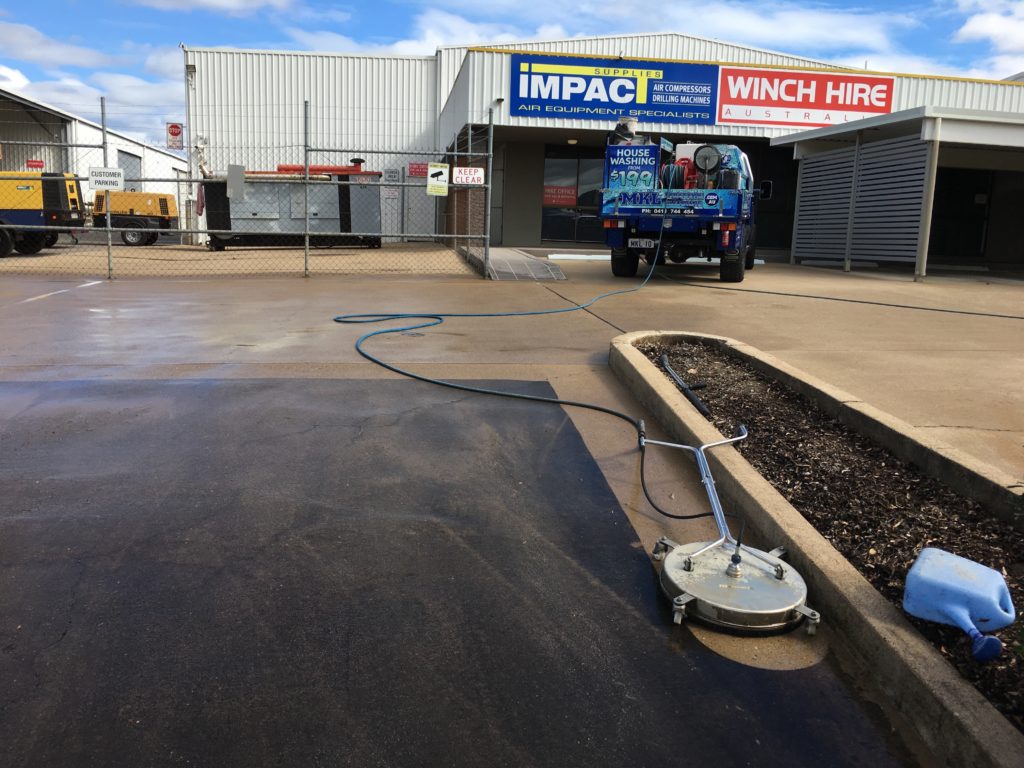 We service all areas of Brookfield with our car park cleaning services, you can rest assured your apartment, commercial and industrial carpark will be left spotless and presentable. Take a look at our testimonials page to see the standard of service, and the stunning level of cleanliness you can expect to receive from us.
Car park Cleaning process
We use a range of different cleaning products, methods and equipment, depending on the type of dirt, stains and flooring. We use pressure cleaning equipment to remove chewing gum and oil stains, whilst our team carry a range of environmentally-friendly cleaning products to remove a wide range of stains and to restore the cleanliness and colour of the car park's flooring and walls.
A high density of vehicles can make car park cleaning difficult, therefore we offer a selection of appointments during non-business hours, including evenings and weekends, to enable us to access the car park whilst it is either empty or less busy. This allows us to clean the carpark without worrying about causing damage to people's vehicles and means that the end results will be more thorough.
Why Use us for Car Park Cleaning in Brookfield?
The skills of our staff guarantee we will have your carpark looking their best in the most efficient time possible. We will use powerful water efficient pressure cleaner to remove stubborn stains, dirt and dust. Keeping your carpark clean will stop people bringing in dirt and grease into the premises and keep it safe from people slipping on oil, grease and dirt.
Our car park cleaning service will save you time and money. No matter how big or small the area that needs cleaning is, we have the right skills and tools to get the job done right. Our professional pressure cleaners will use a highly effective jet-washing method to fully remove chewing gum, stains and dirt. And, to fit us into your busy schedule, we make sure you will be able to choose from a range of booking hours including weekdays, weekend and in the evenings, for the same price.

You needn't worry about your own or your customers health, as we use eco-friendly cleaning products, as part of our ongoing policy to deliver environmentally safe services. And, when booking more than one service with our car park cleaning specialists, we will offer you lower prices. For example, combine driveway cleaning, wall and stair cleaning you'll receive a great discount!

We hot water pressure clean car parks for shopping centres, unit complexes, commercial premises, schools, hotel and motels.

Our carpark cleaning specialist will have the knowledge and experience to clean all types of carparks
We use eco-friendly cleaning products, protecting both your health and the environment
We're available 7 days a week and in the evenings for minimal disruption to businesses
We can fully remove carbon deposits, dirt and graffiti from a variety of surfaces
Our carpark cleaners will come fully equipped with hot water pressure cleaners, fully insured with 20 mil liability and prepared to clean any concrete surface.
MKL Pressure Cleaning, is a family owned and run business with a decade of experience with all aspects of external cleaning in Brookfield Brisbane, understanding that different markets have different needs. We believe that understanding your specific needs is fundamental to delivering ultimate service. We have extensive knowledge and experience in many types of residential and commercial industry high pressure cleaning services. We know how important the maintenance of your professional image is to both you and your company. Our services provide you with the opportunity to keep costs low whilst enhancing your business' efficiency and profitability. Attention to detail and dependability is what makes our customers call upon our high pressure cleaning services over again. We pride ourselves in offering you a straight forward service whilst offering you an integrated cleaning solution for all your exterior surfaces.