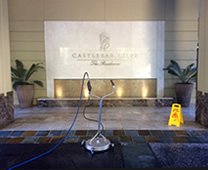 Residential & Body Corporate Cleaners
Maintain the cleanliness of your premises with Brisbane's Pressure Cleaning Specialists. We can refurbish your wall and floor surfaces to make it look like the concrete has just been laid!
Promote safety within pool areas or garden by removing mould and algae from the pavements. Avoid the hazards of slimy and slippery pathways through our efficient high-pressure washing methods.
Increase the aesthetic value of your home by getting rid of the grease and grime from your garage and driveway. Put and end to all that scrubbing and let us do the cleaning for you.
Driveways
Walls Patios
Decking
Block Paving
Tennis Courts
Pathways
Pool Areas
Graffiti Removal
House Washing
Commercial Cleaners In Brisbane
Enhance your company image by having a well-maintained building facade. As Brisbane's top pressure cleaning specialist, we will ensure that your facilities will look professional and presentable.
We have extensive knowledge and experience in the commercial industry and we're aware of how important the maintenance of your professional image is to both you and your company.
We pride ourselves in offering you a straightforward service whilst offering you an integrated cleaning solution. This provides you with the opportunity to keep costs to a minimum whilst increasing your businesses efficiency and profitability.
External Window Cleaning
Our ladderless window cleaning methods are key to safe and quality maintenance of commercial properties. Using pure water and carbon fibre poles reaching 5 storeys we can safely maintain the glass at your business and provide spot-free results.
Fences
Loading Bays
Shop Front window cleaning
Car Park Cleaning
Bin areas
Graffiti Removal
Workshop Floors
Boat Ramps
Chewing gum removal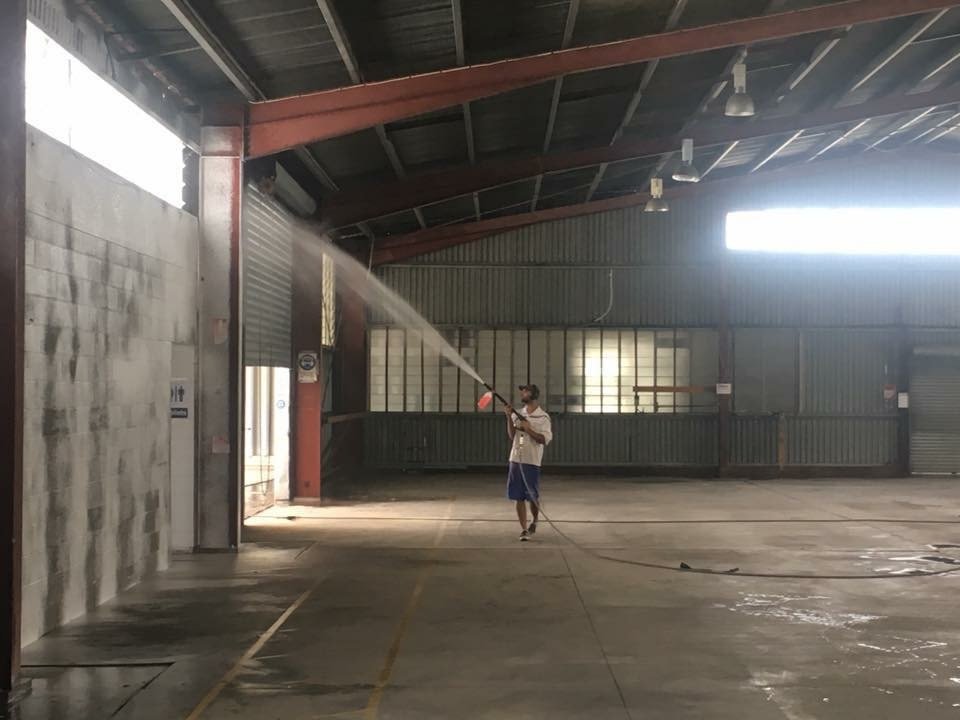 Schools & Industrial Cleaners
We play a vital role in maintaining our clients manufacturing facilities and production operations throughout Queensland, often in hazardous conditions and working to rigorous safety procedures.
We don't just provide one-off cleaning projects; we can also dedicate ourselves to providing industrial cleaning services throughout the entire lifetime of your premises, allowing us to get to know you and adapt to how you like it to be done.
We will produce specific 'Cleaning Maintenance Schedules' and 'Scopes of Work' that will be implemented into maintaining your premises fabulous appearance, whilst complying with Health and Safety requirements and hygiene regulations.
Schools Cleaning
Sporting Facilities Cleaning
Constructions
Engineering
Manufacturing
Pharmaceutical
Graffiti Removal
Chewing gum removal
BEFORE & AFTERS
What Our Clients Say
"We have used Matt's services on a number of occasion's for both our cars and pressure cleaning and have been extremely happy with the results every time. He is punctual and a perfectionist and this shows through in the end result. I have used him both in my business and at home and have no hesitation in recommending him. Thanks Matt, great job. – Stephen Heath, CPAG – General Manager
"I am a Body Corporate Manager and heavily rely on Matt from MKL Pressure Cleaning.. not only is he a great bloke, his work is outstanding, professional, prompt and better than others that we have used. Love your work Matt" – Natalie Nordlof- Strata Management Group