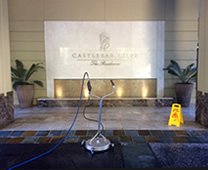 Residential & Body Corporate Cleaners
Maintain the cleanliness of your premises with Brisbane's Pressure Cleaning Specialists.  We can refurbish your wall and floor surfaces to make it look like the concrete has just been laid!
Promote safety within pool areas or garden by removing mould and algae from the pavements.  Avoid the hazards of slimy and slippery pathways through our efficient high-pressure washing methods.
Increase the aesthetic value of your home by getting rid of the grease and grime from your garage and driveway.  Put and end to all that scrubbing and let us do the cleaning for you.
Driveways  
Walls Patios  
Decking
Block Paving
Tennis Courts
Pathways
Pool Areas
Graffiti Removal
House Washing 
Commercial Cleaners In Brisbane
Enhance your company image by having a well-maintained building facade.  As Brisbane's top pressure cleaning specialist, we will ensure that your facilities will look professional and presentable.
We have extensive knowledge and experience in the commercial industry and we're aware of how important the maintenance of your professional image is to both you and your company.
We pride ourselves in offering you a straightforward service whilst offering you an integrated cleaning solution.  This provides you with the opportunity to keep costs to a minimum whilst increasing your businesses efficiency and profitability.
External Window Cleaning
Our ladderless window cleaning methods are key to safe and quality maintenance of commercial properties.  Using pure water and carbon fibre poles reaching 5 storeys we can safely maintain the glass at your business and provide spot-free results.
Fences
Loading Bays
Shop Front window cleaning
Car Park Cleaning
Bin areas
Graffiti Removal
Workshop Floors
Boat Ramps
Chewing gum removal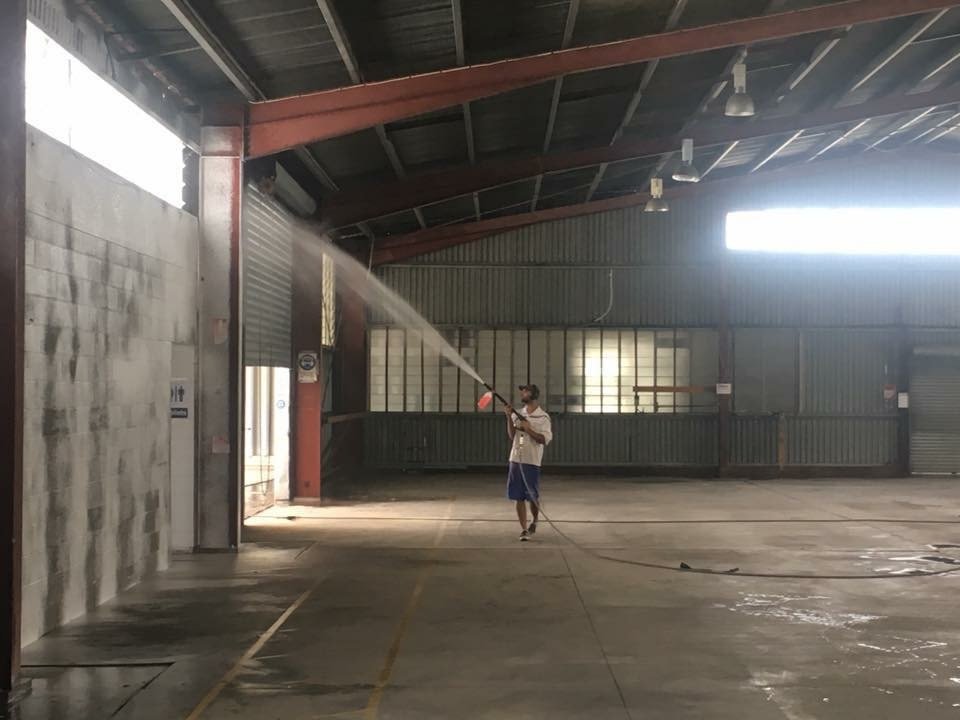 Schools & Industrial Cleaners
We play a vital role in maintaining our clients manufacturing facilities and production operations throughout Queensland, often in hazardous conditions and working to rigorous safety procedures.
We don't just provide one-off cleaning projects; we can also dedicate ourselves to providing industrial cleaning services throughout the entire lifetime of your premises, allowing us to get to know you and adapt to how you like it to be done.
We will produce specific 'Cleaning Maintenance Schedules' and 'Scopes of Work' that will be implemented into maintaining your premises fabulous appearance, whilst complying with Health and Safety requirements and hygiene regulations.
Schools Cleaning
Sporting Facilities Cleaning
Constructions
Engineering
Manufacturing
Pharmaceutical
Graffiti Removal
Chewing gum removal
If you are looking for the best pressure cleaning in Brisbane, Ipswich and Gold Coast then MKL Pressure Cleaning has the perfect solution for you. Our team of experienced, specialist exterior cleaners, combined with our industrial pressure cleaners and our drive to give the best service possible, we believe we can clean anything at any time to a level above your expectations.
We are always creating new solutions to improve the deliverance of our services, the speed in which we work and the customers experience. Due to this constant business evolution it enables us to deliver extremely high quality detailed services at excellent prices. We are always striving for customer satisfaction and will always ensure that the customer is happy with the finished product. Our services can be found throughout this website, we offer a range of exterior pressure cleaning services in Brisbane but if there is anything you are unable to find then please do not hesitate to contact us with your queries via our contact page and we will be happy to help.
MKL is a family run business that was established in the year 1994 in Brisbane. The business started as a simple car detailing cleaning business. With an eye for detail in cleaning I decided to make a change and am now operating as specialists in pressure cleaning as well as soft washing in a range of domestic, commercial and industrial sectors throughout the Brisbane, Ipswich and Gold Coast areas.
Our constant research into new techniques and technologies in combination with our constant reinvestment into the business means we can take on any exterior pressure cleaning and washing task. Our methods are both modern and traditional which enable us to do the job right, while causing minimal disturbance. Ensuring that a perfect finish on the first time, every time.
OUR EQUIPMENT!
Our pressure cleaning machines range from small, low pressure, cold machines for use with surfaces like decking, painted surfaces, houses and tennis courts. These are used in conjunction with chemicals due to the surface being rather soft and not able to take high pressure cleaning. Alternatively we have large truck mounted, high pressure , petrol and diesel powered hot water machines that can be used for things like graffiti removal, oil/grease removal and chewing gum removal.
These machines are connected by over 100 meters of hose, this means that we can access areas that others would struggle to clean. To carry out the actual pressure cleaning we have a range of equipment such as large flat surface cleaners that can clean a large area with limited mess, this equipment also allows us to clean a surface with much less pressure, so not to damage it. For more stubborn dirt and stains we have a "turbo nozzle" that focus's pressure on a smaller area giving a deeper more powerful clean. For more information on Pressure Cleaning in Brisbane or Gold Coast call us or email through our contact page.
BEFORE & AFTERS
What Our Clients Say
"We have used Matt's services on a number of occasion's for both our cars and pressure cleaning and have been extremely happy with the results every time. He is punctual and a perfectionist and this shows through in the end result. I have used him both in my business and at home and have no hesitation in recommending him. Thanks Matt, great job.  – Stephen Heath, CPAG – General Manager
"I am a Body Corporate Manager and heavily rely on Matt from MKL Pressure Cleaning.. not only is he a great bloke, his work is outstanding, professional, prompt and better than others that we have used. Love your work Matt" – Natalie Nordlof- Strata Management Group
---