Experienced High-Pressure Cleaning Specialists In Ascot
We at MKL provide both hot and cold high pressure cleaning, as well as low pressure cleaning covering Ascot, and surrounding suburbs.
Our Hydromat machine can produce from 50 psi up to 4000psi. Producing temperatures up to 120°C which can help clean oil, grease, graffiti and chewing gum.
Not all surfaces need high pressure for example low pressure is used to clean tennis courts so the paint is not damaged as well as washing houses doesn't require it either. Our low pressure techniques can also be used on tiled roofs. A chemical is applied and then washed off using low pressure.
We offer High-Pressure Cleaning services to all areas of Ascot. We can clean driveways, paths, houses, roofs, car parks, shopping centres, schools, industrial buildings, tennis courts and much more.
Hot water pressure cleaning can be a huge advantage over the competition with only cold water. Hot water can remove oil stains from car parks and driveways. It can remove gum from sidewalks, shopping centre paths and car parks.
We pride ourselves on the high quality of our workmanship and believe that the old fashioned virtues of honesty, punctuality and reliability are of paramount importance. Customer satisfaction is top of our priority list as we rely on repeat business and recommendations, therefore you will always get the best out of us on every occasion. Call us anytime to get your free qoute on Pressure Cleaning Ascot.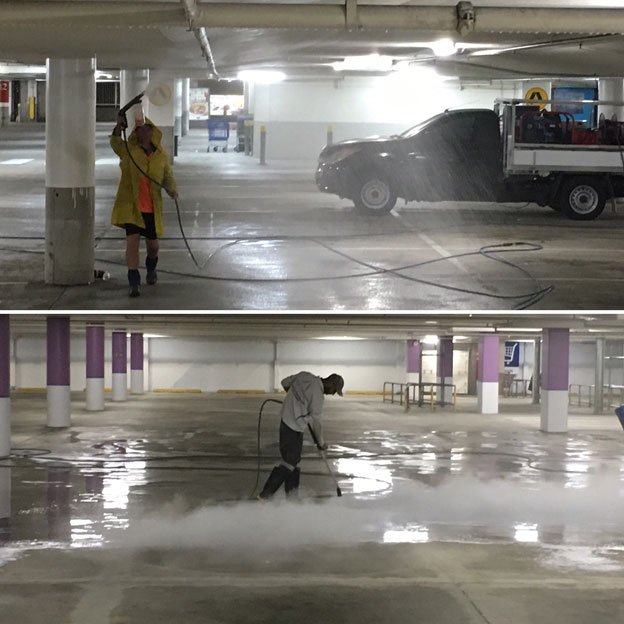 ---
Specialists in House Washing Across Ascot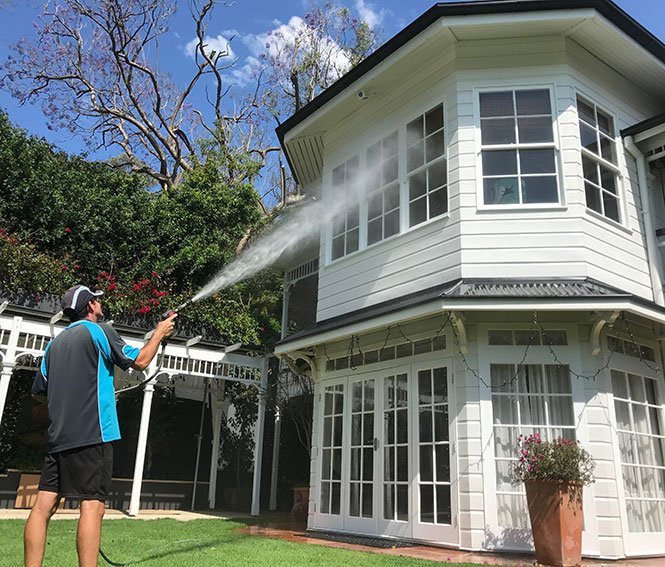 Owning your own home is the largest financial investment an individual will make so it's best to look after it by getting it soft washed regularly. Keeping your house and property clean not only will boost your home's curb appeal but has been shown to keep its dollar value. Pressure cleaning and house Washing when done correctly by a professional cleaning company is extremely good value considering the money that will be saved. By leaving the dirt and mould on your house it will decay the paint and woodwork quicker hence painting will be done more regularly which is a huge expense compared to getting your house washed yearly.
You might ask yourself why can't I do it myself?
Buy a cheap pressure cleaner from Bunnings and start blasting. Well it's not that easy. The right chemicals are needed to remove stubborn dirt and mould as well as knowing what areas of the house can't be sprayed with water to much such as electrical outlets, lights, windows and alarm boxes. When we wash your home we recommend someone be there to check if windows aren't leaking which in most cases they do if drain holes are blocked and to make sure all outdoor items are cleared and pets are inside.
Our process for House Washing:
1. Spray our special formulated chemical for dirt and mould removal
2. Scrub or broom areas that are extra dirty
3. Rinse house thoroughly not with high pressure
4. Check house over to make sure nothing was missed
Call or email us now for a free House Washing Ascot qoute.
---
Patios, Decks & Courtyards Pressure Cleaning
---
Driveways & Paths Pressure Cleaning Ascot
---
1We're eco friendly

Looking after our planet is very important to us, that is why we are certified as an eco-friendly business.

2Attention to Detail

All of our operators are specially trained to excel in their job and look at the smallest details. That's why we're the best!

3Guaranteed Results

With over 12 years of experience, getting results for our client is on the top of our list. We'd love to work with you.
Specialised Concrete Cleaning Services in Ascot
MKL Pressure Cleaning has been concrete Cleaning in Ascot for private and business owners for many years, successfully cleaning both big and small concrete items including driveways, car parks, fences, walls, sporting courts and many other surfaces. Our concrete cleaning specialists in Ascot can fully remove dirt, dust and carbon build-up from your concrete surfaces delivering top results at amazing, discounted rates.
Why Use us for Concrete Cleaning in Ascot?

Our friendly team uses the most effective equipment and chemicals when performing concrete cleaning in Ascot, so you know you'll always be getting the best possible results!

We also understand every concrete surface requires an individual approach to achieve the best results. Our concrete cleaning staff are extensively trained and experienced in applying a number of cleaning services, including:

Pressure cleaning for full removal of water stains, mould, mildew, dirt, dust, grease, rust and carbon stains.

Chemical application – leaving the concrete free from stubborn stains

You can rest assured that after cleaning your concrete it will be left fully restored, and looking amazing.

And on top of it all, MKL Pressure Cleaning will be able to offer you discounts on our first class services, when you book multiple concrete cleaning Ascot jobs at the same time.

Our commitment to you

Our concrete cleaning specialist will have the knowledge and experience to clean all types of concrete surfaces
We use eco-friendly cleaning products, protecting both your health and the environment
We're available 7 days a week and in the evenings for minimal disruption to businesses
We can fully remove carbon deposits, dirt and graffiti from a variety of surfaces
Our concrete cleaners will come fully equipped, fully insured and prepared to clean any concrete surface.
All safety procedures followed as per swms and all msds supplied for all chemicals used.
---
The Best Carpark Cleaning Specialists in Ascot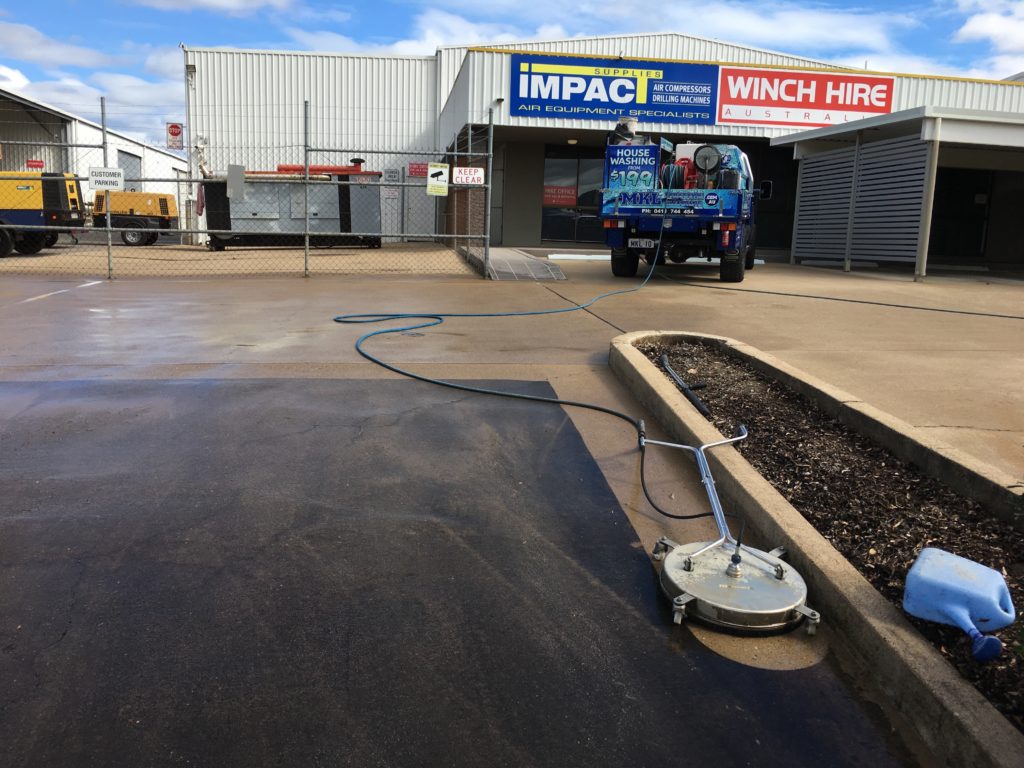 We service all areas of Ascot with our car park cleaning services, you can rest assured your apartment, commercial and industrial carpark will be left spotless and presentable. Take a look at our testimonials page to see the standard of service, and the stunning level of cleanliness you can expect to receive from us.
Car park Cleaning process
We use a range of different cleaning products, methods and equipment, depending on the type of dirt, stains and flooring. We use pressure cleaning equipment to remove chewing gum and oil stains, whilst our team carry a range of environmentally-friendly cleaning products to remove a wide range of stains and to restore the cleanliness and colour of the car park's flooring and walls.
A high density of vehicles can make car park cleaning difficult, therefore we offer a selection of appointments during non-business hours, including evenings and weekends, to enable us to access the car park whilst it is either empty or less busy. This allows us to clean the carpark without worrying about causing damage to people's vehicles and means that the end results will be more thorough.
Why Use us for Car Park Cleaning in Ascot?
The skills of our staff guarantee we will have your carpark looking their best in the most efficient time possible. We will use powerful water efficient pressure cleaner to remove stubborn stains, dirt and dust. Keeping your carpark clean will stop people bringing in dirt and grease into the premises and keep it safe from people slipping on oil, grease and dirt.
Our car park cleaning service will save you time and money. No matter how big or small the area that needs cleaning is, we have the right skills and tools to get the job done right. Our professional pressure cleaners will use a highly effective jet-washing method to fully remove chewing gum, stains and dirt. And, to fit us into your busy schedule, we make sure you will be able to choose from a range of booking hours including weekdays, weekend and in the evenings, for the same price.

You needn't worry about your own or your customers health, as we use eco-friendly cleaning products, as part of our ongoing policy to deliver environmentally safe services. And, when booking more than one service with our car park cleaning specialists, we will offer you lower prices. For example, combine driveway cleaning, wall and stair cleaning you'll receive a great discount!

We hot water pressure clean car parks for shopping centres, unit complexes, commercial premises, schools, hotel and motels.

Our carpark cleaning specialist will have the knowledge and experience to clean all types of carparks
We use eco-friendly cleaning products, protecting both your health and the environment
We're available 7 days a week and in the evenings for minimal disruption to businesses
We can fully remove carbon deposits, dirt and graffiti from a variety of surfaces
Our carpark cleaners will come fully equipped with hot water pressure cleaners, fully insured with 20 mil liability and prepared to clean any concrete surface.